6 Best QNAP NAS Options of 2021
There are plenty of articles on the Internet telling about the main characteristics of certain storage systems. But what about those users who don't follow the technical innovations, or, say, those who simply don't have time to understand many of the specifications and find out how they will affect the performance or reliability of the device? In this article we will try to simplify the selection process by looking at the six best storage systems from QNAP, each of which is best suited to a specific need.
What Is a NAS System
Before we start exploring the models, a few words must be said about what a NAS is. (If you already have a sufficient understanding of NAS systems, feel free to skip this paragraph.)
Network-Attached Storage, or NAS, represents a data storage and management device that allows the information to be shared among versatile groups of users and varied clients simultaneously and can be accessed through a network or via the internet. Being flexible and scalable, NAS servers are able to easily adapt to growing storage needs, allowing you to add more space to what you already have. It's like having a private cloud right in the office — but it's faster, less expensive, and can provide you all the benefits of a public cloud on-site without limiting your control over the data.
Among other things, NAS systems also provide an excellent file synchronization between different machines and devices, as well as an extremely reliable solution for data backup, offering much faster data recovery in case of a system failure or unintentional deletion of an important file in comparison to popular cloud services, such as DropBox or OneDrive.
Well, time to move on to the most interesting part! Below we present a list of the six best QNAP products that are worth checking out.
Best Overall
: QNAP TS-451+
Time-tested and extremely stable in operation, the TS-451+ leads today's top thanks to the balance between value and performance that it offers. While it may not boast the highest storage capacity of any QNAP product, nor is it the most powerful enclosure available, this compact and nimble NAS device is equipped with the Intel Celeron J1900 CPU, which makes it suitable even for use as a media server with Plex. Another great thing about this buddy is the RAM that you can upgrade if ever find yourself facing stalemate with what you're trying to achieve.
As for the exterior design, TS-451+ has four SSD/HDD drive bays that go all the way up to 64TB, and a bunch of ports on the rear which include two 1Gb LAN, USB 3.0, and USB 3.2 Gen 1. Apart from a few disadvantages of this storage, such as the lack of 2.5Gb LAN ports and M.2 slots, this is one amazing NAS device that has everything you may need to get started with networked storage.
Best Starting
: QNAP TS-231K
Are you new to the marvelous world of network-attached storages? Considering to invest in your first NAS enclosure? The QNAP TS-231K will be an excellent option for you to start with. While being a pretty affordable device, this NAS can offer you a range of features that will allow you to scale from scratch if you have bigger plans in the long run.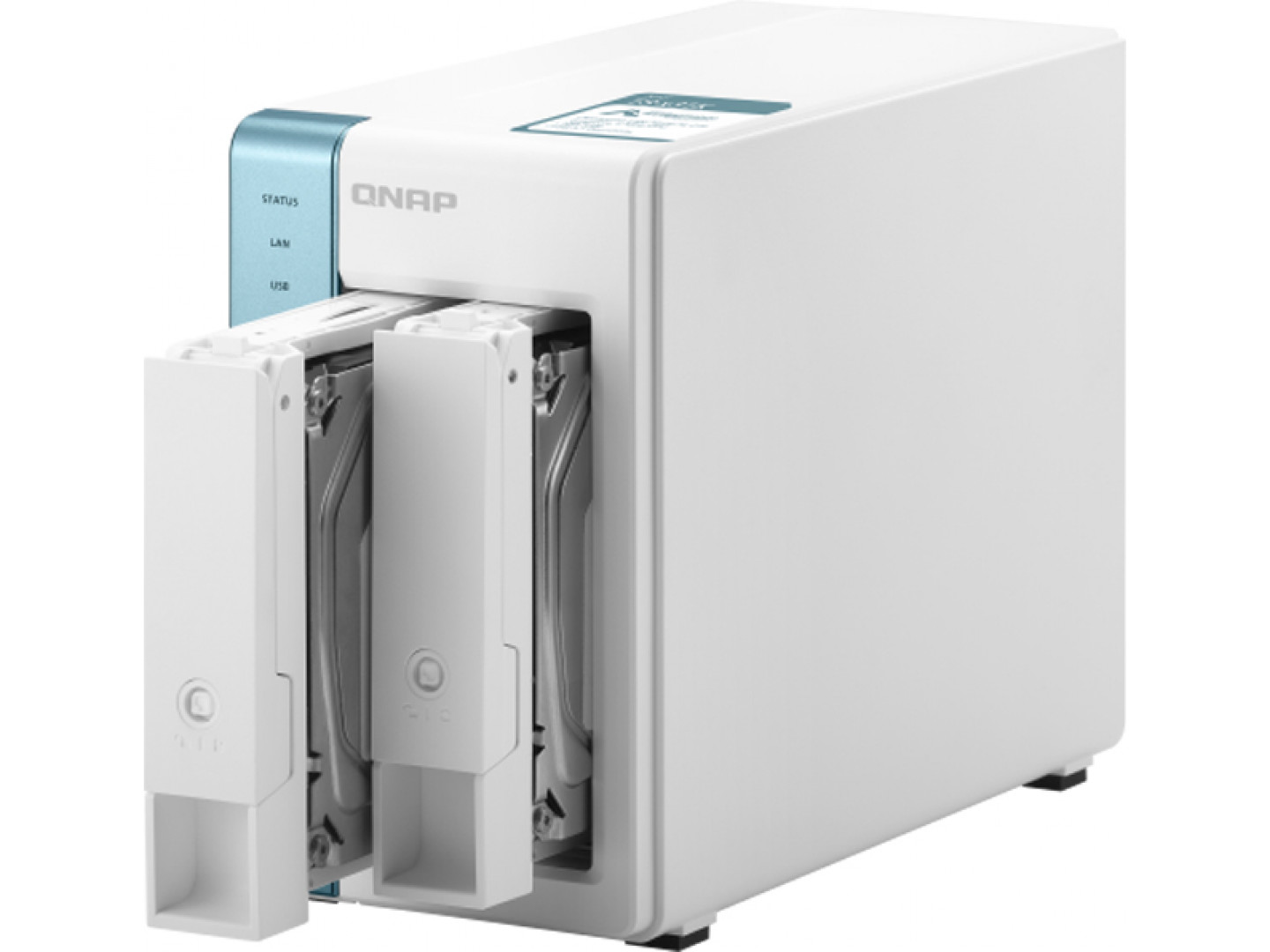 Of course, it's not going to get any awards for performance with the ARM processor which is just a 32-bit CPU, but it allows QNAP to keep the price down by including two SSD/HDD drive bays up to 32TB. At the same time, the use of an ARM processor and only up to two drives means a significant decrease in power consumption, which can be a decisive advantage in some cases. The only issue with this device is the lack of upgradeable RAM (and the processor if you require to ensure your media with transcoding a go).
Best Budget
: QNAP TS-128A
The QNAP TS-128A is an affordable NAS for mediocre tasks that shouldn't be expected to run many services like Plex. It's equipped with a 64-bit ARM CPU, which surely isn't considered powerful, and a single drive bay that allows for up to 16TB of data to be placed. For storing files, however, this enclosure takes up 16TB of external storage and turns it into something worthy, which makes it a great option to consider if you only want a medium to keep important backups of your PC or laptop, and become less reliant on cloud storage services.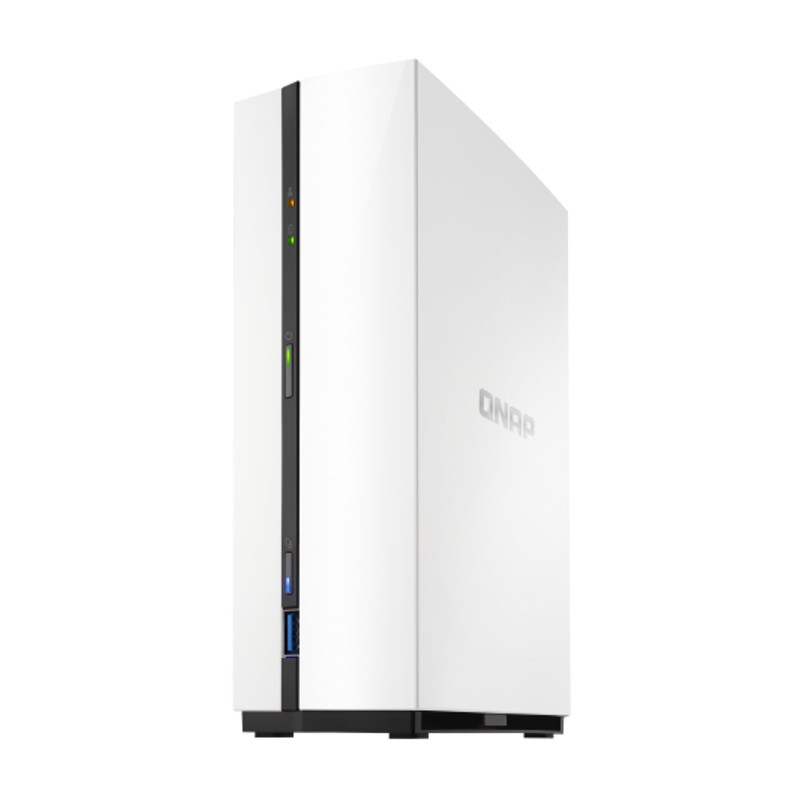 The TS-128A offers you just one drive and enclosure, which will not cost you much money, with which you get a Gb connection to access your files over the network. You can enjoy the same QNAP OS experience as on more premium devices. The only pity is that you can't use an SSD here.
Best Value
: QNAP TS-251D
If you're seeking excellent value, QNAP's TS-251D should be your best choice. Coming with an Intel Celeron J4005 processor, 4GB of RAM that you can upgrade to 8GB, and two drive bays that can take up both SSD and HDD disks, this NAS supports up to 32TB of capacity and poses an ideal solution for home file storage. In simple terms, TS-251D is able to back up all your computers and devices, which means you can save a pile of money by ditching your cloud storage subscriptions (and at the same time improve the security of your files by eliminating the risks associated with data security issues concerns). Finally, there's a single 70mm fan to cool everything down, but you can do some more advanced tasks on this device.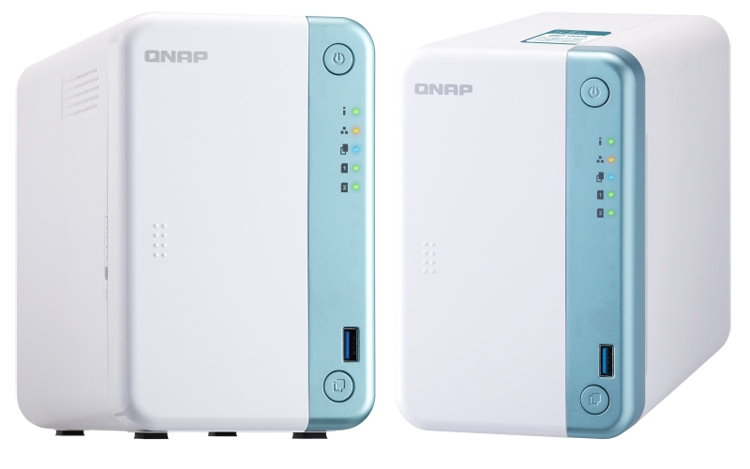 Among the disadvantages of this NAS enclosure is the single 1Gb LAN port, as well as the lack of M.2 slots and 2.5Gb ports. Of course, this won't critically interfere with your work if you have a 2.5GB network and require additional speed, but it's worth keeping in mind.
Best Capacity
: QNAP TS-1685
Just take a look at his monster! If the most important thing for you in a NAS is capacity, if in your search you are guided by the principle "the more the better" — then let me introduce you to QNAP's TS-1685. Being capable of holding as much as 192TB of data in the 12 drive bays alone, this powerful NAS can offer you additional four SSD bays and six M.2 ports in addition, and to make it possible to handle all this information, QNAP has chosen the Intel Zeon D-1521. While this processor isn't as powerful as the server-grade Xeon ones (say, it won't handle 4K movie transcoding), it is still much better than most Pentium and Celeron offerings found in popular NAS devices.
Wait, there is more to come: the massive capacity is accompanied by two 10Gb LAN ports, four 1Gb LAN ports, and a total of three USB 3.2 Gen 1 ports. Summing up: the TS-1685 is best suited for file storage in a fussy office or busy household; the price and power consumption of the device, however, will make anyone who wants to save on electricity bills look the other way.
Best for Plex
: QNAP TVS-682
While it is known that Plex is really demanding on NAS systems, there is a NAS device that was designed to meet these requirements, namely TVS-862, which QNAP positions as the ideal NAS for the media hub. Despite the fact that the Intel Core i3-7100 doesn't claim to be the most powerful processor for your PC, it is the presence of this incredibly small processor in the NAS that enables it to process 4K transcoding. In addition to that, TVS-862 comes with 8GB of DDR4 RAM pre-installed, which you can bump to a maximum of 64GB.
What's more, TVS-862 can offer your four bays for 2-inch and 3.5-inch drives that can hold up to 64TB, 2-inch bays for SSDs in addition, and even M.2 slots that can serve as extra capacity or cache. There are four 1Gbps LAN ports that can be found on the rear panel, three HDMI ports, four USB 3.2 Gen 1 ports, and an additional USB 3.2 Gen 1 port that is located on the front of the NAS. These are excellent specifications, and if you consider the price, it is generally quite a good value for the money. This NAS will be able to handle most of the tasks that you can give it without issue.
That's all! And remember: if your data becomes inaccessible due to a disk failure in the NAS, damage to the drive, media corruption, or for any other reason, — do not rush to panic! Instead, contact SALVAGEDATA specialists for a free consultation on your case, and leave the rest to the professionals.