Drobo vs Synology: What Do They Offer, And How To Choose Yours?
Why Opt for NAS?
The number of cloud storage users around the world continues to grow by leaps and bounds, and that is no surprise: space scalability, customizable access, automated backup options and convenient data sharing features are just a few of the benefits that cloud computing can offer you today — not mentioning the incredibly low maintenance costs which typically run under $10/month. All this makes online storages a universal solution that can comply with both private users' and enterprises' requirements. However, even in a well-predictable digital world, there is no perfection.
At the same time, data security concerns and management limitations are some of the most common reasons why people give up online storage in favor of home servers. Whereas hosting corporate data in the cloud implies shared responsibility, you're supposed to rely on the data protection practices of your service vendor, which in part takes away your control over the security of your information. More importantly, the pandemic-induced massive shift of businesses to remote administration has resulted in a significant increase in cybercrime, making the issue of data security even more acute than before: according to the report provided by FintechNews, cloud-based attacks have risen 630% between January and April 2020, meaning that corporate and sensitive data stored in the cloud is currently at significant risk.
Another problem is that cloud services (including popular options such as Google Drive and iCloud) don't always provide you with full control and admin capabilities — no matter if you are the customer or the file creator, which can also be a significant inconvenience in terms of data management, particularly if your line of business involves frequent collaborations, or exchange of large amounts of data.
NAS-servers, however, eliminate both of these issues.
What Is a NAS Server
Bulky devices that look like large hard disk drives with a bunch of colorful cords and wires sticking out is what people normally think of as they hear the word "server"; fortunately, that's not the kind of setup you'll have to deal with when it comes to Network-Attached Storages.
Used to facilitate storage and management of data, NAS-based systems allow it to be shared among different user groups and accessed from any machine on the network, or from anywhere in the world via the internet. These are reliable, flexible, minimal-maintenance servers that can compound potential growth and quickly scale up to accommodate new users or growing data, offering advanced administration options for better file management.
What's more, a NAS-based system can be immensely handy for backing up and syncing data across multiple computers and mobile devices. Compared to cloud services, like DropBox or OneDrive, backing up to a local storage is also proven to be much faster, as well as recovering from a system crash or restoring an accidentally deleted file.
Drobo vs Synology
Whereas each brand naturally targets different audiences and has a range of models to suit different needs, comparing them abstractly can be pretty challenging: there are budget-friendly home backup systems, powerful high-end hardware servers that are better suited for large companies or business purposes, devices that fit the video or design needs, and plenty of alternatives to choose from. With that in mind, in this article, we'll go through some common points of three 2020s most popular Synology and Drobo products to give you an idea of how NAS devices can be used most effectively, and what features you should look for when choosing yours.
Synology DiskStation DS220j: Best NAS for Home
Let's start with Synology's DiskStation DS220j — a budget entry-level NAS which is designed for anyone who'd like to get a much more robust and flexible backup system for their home compared to what can be offered by a traditional external hard drive. The DS220j supports up to 32TB of raw storage with two 16TB hard drives — which should be more than enough for most home backups, — and can be configured in RAID 0, 1, and JBOD.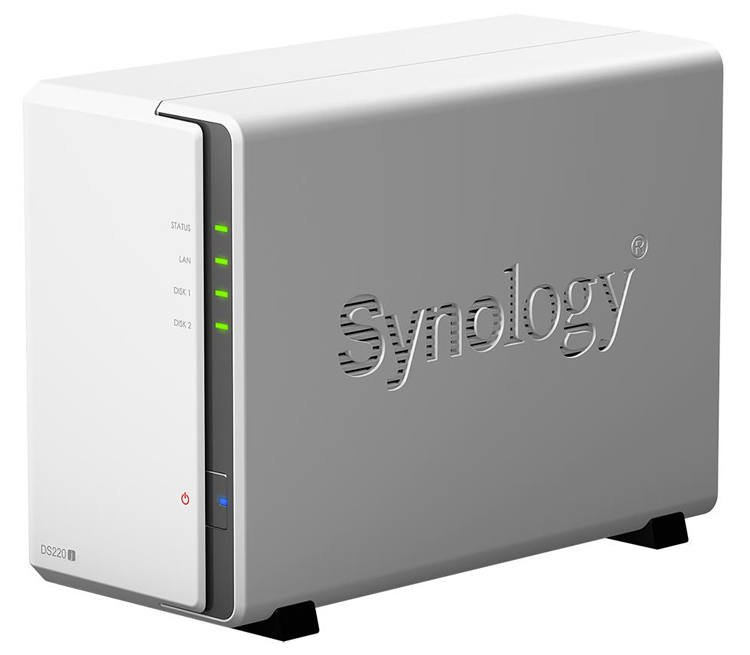 Despite its compact size, this nimble device is also able to provide you with excellent performance, where you can count on read and write speeds from 114 MB/s to 118 MB/s, as well as effective multitasking achieved through an improved quad-core processor Realtek RTD1296 and 512 MB RAM. With the offered price and ease of use of DiskStation Manager (DSM), which offers enterprise-class functionality, the Synology DS220j is considered one of the best available home NAS devices.
Drobo 5N2 Gold Edition: Best NAS For Mac
While most NAS devices are compatible with Windows, Mac and Linux machines, it is the Drobo 5N2 that is currently the most popular among Mac users — not only because of its easy-to-use interface, Apple Filing Protocol (AFP) support, and macOS Time Machine support, but also due to its simple tool-free design that makes adding or removing discs much easier. The Drobo 5N supports all common RAID configurations and even offers its own BeyondRAID feature that can be used to provide increased flexibility over traditional RAID. More importantly, using this technology, the Drobo 5N2 is able to protect yours even in the event of multiple disk failures, and completely without any intervention on your part. It also provides a one-click switch from single to dual disk redundancy, providing enterprise-grade double parity data protection when needed.
Another amazing thing about Drobo 5N2 is that it enables Hot Data Caching via Drobo Accelerator Bay, which intelligently uses high-performance flash memory to give you the fastest access to your data. Also, to maintain the maximum capacity of the Drobo 5N2, the Drobo Accelerator Bay features the industry-standard mSATA SSD, leaving all five 3.5-inch bays available for high-capacity hard drives. Finally, while anyone can implement it into their storage system, the 5N2 is a particularly suitable option for die-hard Mac users who don't mind paying a little extra for a range of specialized features.
Synology DiskStation DS2419+: Best NAS For Business and Enterprise
The Synology DiskStation DS2419+ is a powerful NAS device that comes with 4GB of RAM by default (which can be enlarged to up to 32GB), 192TB of raw storage capacity (384TB with expansion unit), and is provided with a range of enterprise and consumer applications  for efficient management and administration of all NAS functions. Being equipped with Synology's proprietary operating system, DiskStation Manager (DSM) — which is considered one of the most user-friendly operating systems — DS2419+ is also very easy to set up, even for novice users.
Excellent performance is another great thing about this device. Through a 10 GbE connection and using Seagate IronWolf NAS drives in RAID 5, sequential read and write speeds of up to 9 Gb/s and 4 Gb/s can be achieved, respectively. Finally, being a high-capacity and scalable NAS with on-the-fly volume expansion capability, upgradable memory configuration, and diversified add-in card options, DS2419+  is rightfully considered one of the best data storage solutions for modern business — while features like Active Backup for Business, Hyper Backup, Desktop Backup, and Active Backup for Office 365/G Suite makes it a perfect solution for smaller teams seeking to safeguard critical data.
Conclusion
We are well aware that data loss can occur at the most inopportune time. From malfunctions caused by logical errors and malware, which may take place even in brand new equipment, to complete failure of a system due to physical damage or natural wear and tear — there's a multitude of reasons hardware can you down, resulting in severe loss of important files. 
Don't put your crucial data at risk — entrust the problem to professionals. With more than 10 years of experience and over 96% of successfully solved dala loss cases, SALVAGEDATA is known to provide high-end, quick and secure data restoration services. Want to see for yourself? Just contact us today for a free consultation on your case — and find out what makes us one of the most trusted names in the industry!